Biological Macro and Micro Systems Co-existing in the "Fountain of the Two Dragons", Palermo
Keywords:
fountain, stone biodeterioration, micro and macro-organisms
Abstract
Stone works of art located outdoors are exposed to natural deterioration, due to several physical, chemical and biological factors. Biological macro- and micro-systems (e.g. weeds, insects, algae, mosses, fungi and bacteria) may induce the biodeterioration of stone materials. In February 2014, the state of conservation of the Fountain of the two Dragons in Palermo was examined, during which time biological colonization in some areas of the fountain and statues, was also detected. The monument represents an excellent substrate for the development and growth of microrganisms and organisms that need a continuous supply of water. Direct solar irradiance promotes the development of photoautotrophic organisms, bryophyte flora, in addition to several microbial genera, responsible for pigmentation, discoloring, efflorescence. After autotrophic colonization, some organisms find an ideal habitat also during wintertime, including two species of gastropods and two species of Hemiptera, omnivorous, a species of Collembola, mostly fungivorous. This interdisciplinary study has enabled the detection and identification of different biological communities, providing information for a subsequent project of preventive conservation of the fountain and its surroundings.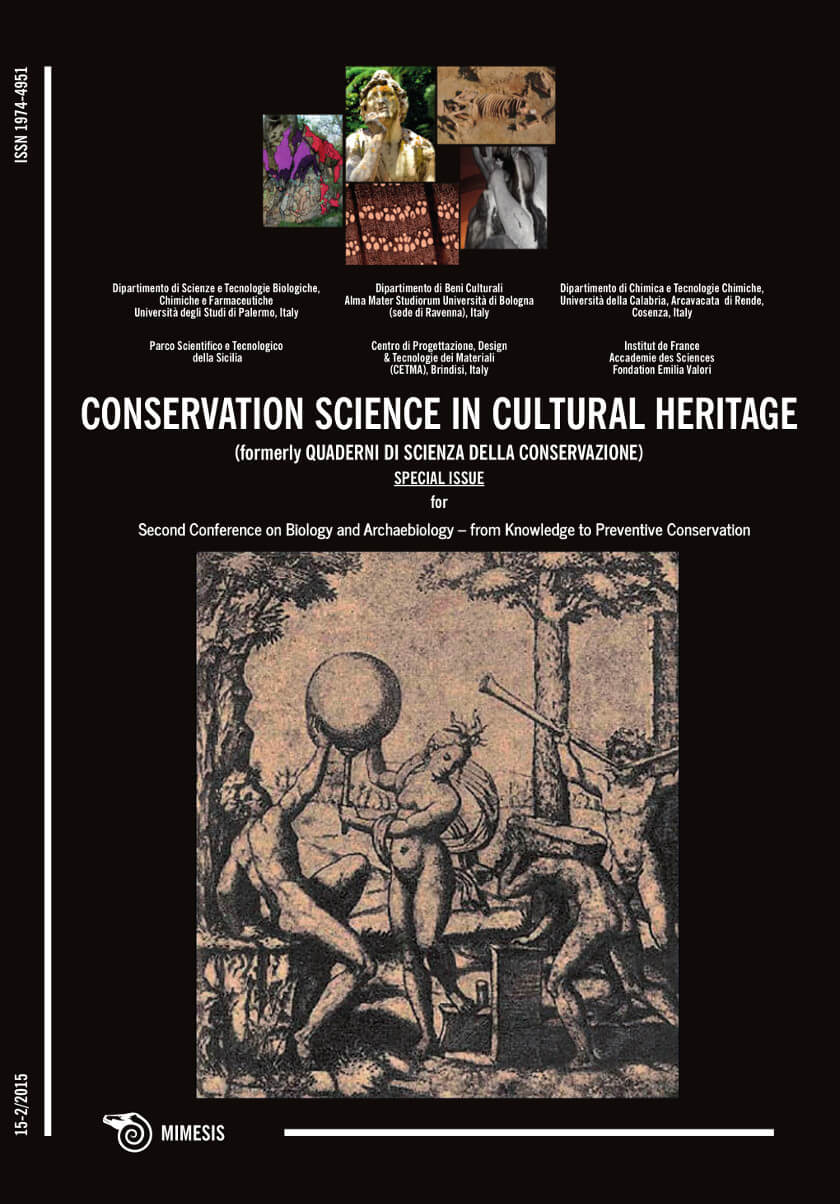 Downloads
How to Cite
Di Carlo, E., Lombardo, G., Barresi, G., Manachini, B., Palla, F., Corselli D'Ondes, G., & Lo Giudice, S. (2015). Biological Macro and Micro Systems Co-existing in the "Fountain of the Two Dragons", Palermo. Conservation Science in Cultural Heritage, 15(2), 95–107. https://doi.org/10.6092/issn.1973-9494/7122
License
Copyright (c) 2015 Enza Di Carlo, Giovanna Lombardo, Giovanna Barresi, Barbara Manachini, Franco Palla, Gaetano Corselli D'Ondes, Silvana Lo Giudice
Copyrights and publishing rights of all the texts on this journal belong to the respective authors without restrictions. Authors grant the journal right of first publication.
This journal is licensed under a
Creative Commons Attribution 3.0 Unported License
. (
full legal code
)
See also our
Open Access Policy
.