Alcamo Project: an integrated laboratory for the analysis and the study of a roman officinal area in Contrada Foggia in Alcamo Marina (TP)
Abstract
During the archaeological research activities carried out in the past three years near Alcamo Matina (TP) an officinal area of the Roman period was brought to light. The find was accidental and consisted of a series of kilns used for the cooking of ceramic material which dates back to the centuries I-V A.D. The architectonic and structural solutions adopted for the realization of the ceramic complex are very interesting, a series of kilns on various levels with a system of terracing of the ground, orientation of the axis and of the opening of the praefurnium towards the non dominant winds, alternation of containment and strengthening wall structures and structural fillings made of clay. Some studies under way help better understand the officinal complex, they focus on the analysis of the ceramic material found there and on the reconstruction of the territory on the basis of methods of satellite bearing (GPS) and on the basis of cartographic results of models on the GIS platform.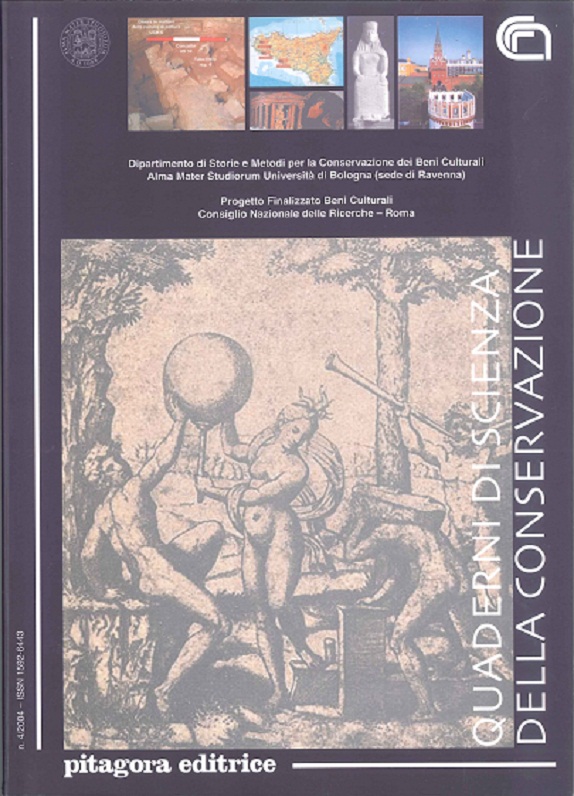 Downloads
How to Cite
Giorgetti, D., Orofino, G. A., Franzò, J., & Gonzàlez Muro, X. (2004). Alcamo Project: an integrated laboratory for the analysis and the study of a roman officinal area in Contrada Foggia in Alcamo Marina (TP). Conservation Science in Cultural Heritage, 4(1), 115–155. https://doi.org/10.6092/issn.1973-9494/574
License
Copyright (c) 2004 Dario Giorgetti, Giacomo A. Orofino, Joseph Franzò, Xabier Gonzàlez Muro
Copyrights and publishing rights of all the texts on this journal belong to the respective authors without restrictions. Authors grant the journal right of first publication.
This journal is licensed under a
Creative Commons Attribution 3.0 Unported License
. (
full legal code
)
See also our
Open Access Policy
.