The Layout of Power and Space in Jingdezhen Imperial Factory
Keywords:
Jingdezhen Imperial Factory, regulation of government building, technological system, power-space
Abstract
This paper, by referring to the archaeological reports and local gazetteers and comparing images of porcelain wares, makes a comprehensive and in-depth analysis of the layout of power and space in Jingdezhen Imperial Factory according to its geography, geomancy, security management, space regulation, architectural features, production characteristics and production layout. It contends that the Imperial Factory which integrates porcelain making factory with local government is the embodiment of absolute monarchy in ceramic culture. The factory is located on Zhushan mountain, the center of Jingdezhen's industry, business and transportation. Being at the center, it gives off an air of prestige and majesty, overlooking dominantly the surrounding private kilns. It has also turned the political system into power operation, setting up not only workshops but also administrative offices. By taking advantage of the best resources, it has produced porcelain for imperial family and court. Its specialized production has solved the contradiction between complicated technology and numerous procedures of production. The shape, color and pattern of the porcelain wares are strictly stipulated and the best of the best wares are demanded. Hence the porcelain production is featured with longest firing, largest scale, superb craftsmanship, and best kinds of wares. All of these reveal the process and rule power and space are intersected and different cultures overlapped.
References
Zhou Shangyi, Anglo-American Cultural Studies and the New Cultural Geography, Georaphica Sinica 2004, 59 (S1):162-166.
Shi Song, Ning Yuemin, Evolution on Connotation of Space in Human Geography,Scientia Georaphy Sinica,25 (3): 340-345.
Zhu Hong, Lin Jie, Wei lei, The research Context of Cultural Geography in China Indicated by A Hundred Issues of Human Geography [J], Human Geography, 2009, 24 (5): 13-21.
Zhu Jianfei, The Royal Battle - the Outline of the Political Layout of Qing Palace Museum [J], Architecture, 1997.4. 101-112.
Jingdezhen Bureau of Relics, The Journals of Jingdezhen relics [M] Beijing: Beijing Green Everlasting Press, 2007: 12-13.
Jingdezhen Bureau of Relics, The Journals of Jingdezhen relics [M] Beijing: Beijing Green Everlasting Press, 2007:12-13.
Fuliang Local Journals Community, Fuliang County Records-Important Events [M], Beijing: Beijing Fangzhi Press,1999
Fuliang Journals [M] Qing Kangxi 21 carving copy
Michel Foucault, Liu beicheng, Yang Yuanying Surveiller et Punir [M] Beijing: SDX Joint Publishing Company, 2003.28.193.
Li Yunye,Artistic conception in China[M],Tianjin:Yianjin University Press,2005
Wang Zongmu Book of Ceramics-Records of Jiangxi Province[M]Jiajing 35 carving copy
Qing.Lan Pu Picture of Imperial Factory--Ceramic Records of Jingdezhen [M].Jiaqing 20 carving copy
Zhan Shan, Records of Reconstructing the Awarded Temple for Wan Shuohou[M]. Fuliang County Records--Ceremony
Dani Cavallaro,Critical and Cultural Theory [M]. Nanjing: Jiangsu People's Publishing 2006: 179
Magnuson J J.Longterm ecological research and the invisible present[J]. Bio Science,1990, 40: 495-501.
Song Yingxing,Chinese Technology in the Seventeenth Century:T'ien-kung K'ai-wu [M]. Shanghai:Zhonghua Book Company.1959
Entrecolles, Records of Jingdezhen. Prist Aori, Church Accountant, Kangxi 51.
Liu Xinyuan,Quan Kuishan, etc. Guanyinge Kiln of Ming Dynasty in Jingdezhen City,Jiangxi Province.Cultural Relics, 2009.12. 39-58.
Zhou Shangyi. On the Research Framework and Methodologies of Cultural Geography[J]. Bulletin of Chinese Academy of Sciences, 2011, 6(5): 174-183.
Forman R T T,Godron M.Landscape Ecology[M]. New York: John Wiley and Sons,1986.
Zhu Hong,Qian Junxi, Feng Dan. On the Symbolic Meanings of Space [J] Progress in Geography 2010, 29 (6): 643-648.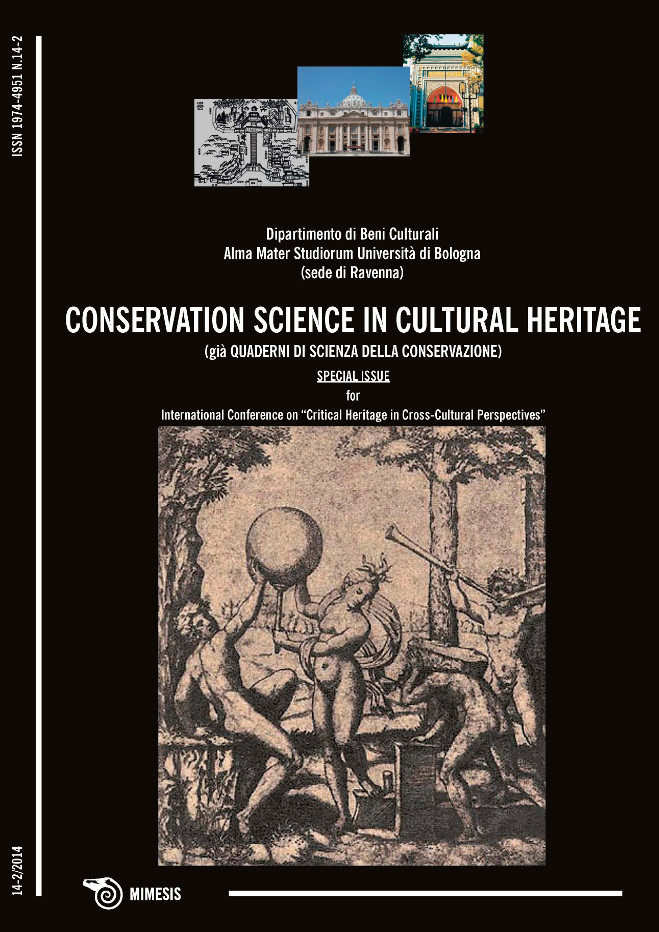 Downloads
How to Cite
Jia, Z. (2014). The Layout of Power and Space in Jingdezhen Imperial Factory. Conservation Science in Cultural Heritage, 14(2), 83–98. https://doi.org/10.6092/issn.1973-9494/5445
License
Copyright (c) 2014 Zhan Jia
Copyrights and publishing rights of all the texts on this journal belong to the respective authors without restrictions. Authors grant the journal right of first publication.
This journal is licensed under a
Creative Commons Attribution 3.0 Unported License
. (
full legal code
)
See also our
Open Access Policy
.