The relationship between salts and growth of Streptomyces isolated from mural paintings in some ancient Egyptian tombs
Keywords:
tombs, Egypt, Streptomyces, salts, carotenoid
Abstract
Summary

Eight out of the forty-six samples of Streptomyces representing the most potent deteriorating isolates were taken from scaled and stained mural paintings in the tombs at Tell Basta and Tanis, Lower Egypt. These isolates were identified using conventional and 16S rDNA sequencing methods and attributed to S. albidofuscus, S. ambofaciens, S. canaries, S. chibaensis, S. coelicolor, S. corchorusii, S. nigrifaciens
and S. parvullus. The different salts occurring on the ancient Egyptian tombs, such as sodium chloride, potassium chloride and magnsium sulphates enhanced the growth of Streptomyces isolates till 10% of these salts. Streptomyces isolates adapted/adopted different defense mechanisms such as pigmentation, osmotic balance and amino acid
production. The salts had a synergistic effect in the deterioration of the mural paintings through the cooperation of the mycelium of Streptomyces with salts in the mechanical deterioration of the stone surfaces.

Riassunto
Otto dei quarantasei campioni di streptomiceti che rappresentano i più potenti biodeteriogeni sono stati isolati dagli affreschi deteriorati all'interno delle tombe a Tell Basta e Tanis, nel basso Egitto. Questi isolati sono stati identificati usando metodi convenzionali e del sequenziamento 16S rDNA e sono stati attribuiti alle specie S. albidofuscus, S. ambofaciens, S. canaries, S. chibaensis, S. coelicolor, S. corchorusii, S. nigrifaciens and S. parvullus. I diversi sali ritrovati sulle antiche tombe egizie, come il cloruro di sodio, cloruro
di potassio e il solfato di magnesio hanno accelerato la crescita degli streptomiceti isolati fino ad una concentrazione del 10% di questi sali. Gli streptomiceti isolati hanno adottato diversi meccanismi di difesa come la pigmentazione, l'equilibrio osmotico e la produzione di aminoacidi. I sali hanno svolto un effetto sinergico sul deterioramento degli affreschi attraverso l'interazione con il micelio degli streptomiceti ed i sali, incrementando il deterioramento meccanico delle superfici lapidee.
Résumé
Huit des quarante-six échantillons de streptomycètes, qui représentent les biodétériogènes les plus puissants, ont été isolés des fresques détériorées situées à l'intérieur des tombes à Tell Basta et Tanis, en Basse-Égypte. Ces isolats ont été identifiés à l'aide de méthodes conventionnelles et du séquençage 16S ADNr, et ils ont été attribués
aux espèces S. albidofuscus, S. ambofaciens, S. canaries, S. chibaensis, S. coelicolor, S. corchorusii, S. nigrifaciens et S. parvullus. Les différents sels retrouvés sur les anciennes tombes égyptiennes, tels que le chlorure de sodium, le chlorure de potassium et le sulfate de magnésium, ont amplifié la croissance des streptomycètes
isolés jusqu'à 10 % de ces sels. Les streptomycètes isolés ont adopté différents mécanismes de défense tels que la pigmentation, l'équilibre osmotique et la production d'acides aminés. Les sels ont eu un effet synergique sur la détérioration des fresques, à cause de leur interaction avec le mycélium des streptomycètes : la détérioration
mécanique des surfaces en pierre a été ainsi augmentée.

Zusammenfassung

Acht der sechsundvierzig Proben von Streptomyzeten, die die schlimmste Verrottung hervorrufen, wurden in den verrotteten Fresken im Inneren der Grabstätten in Tell Basta und Tanis in Niederägypten isoliert. Sie wurden anhand herkömmlicher Methoden und durch Sequenzierung des 16S rDNA isoliert und den Spezies S. albidofuscus, S. ambofaciens, S. canaries, S. chibänsis, S. cölicolor, S. corchorusii, S. nigrifaciens und S. parvullus zugeordnet. Die verschiedenen Salze, die in den antiken ägyptischen Gräbern vorgefunden wurden, wie beispielsweise Natriumchlorid, Kaliumchlorid und Magnesiumsulfat, haben das Wachstum der isolierten Streptomyzeten bis auf 10% dieser Salze gesteigert. Die isolierten Streptomyzeten bedienten sich verschiedener Verteidigungssysteme, wie beispielsweise Pigmentierung, Osmose-Gleichgewicht und Erzeugung von Aminosäuren. Die Salze waren durch usammenwirkung mit dem Myzelium der Streptomyzeten synergisch an der Verrottung der Fresken beteiligt und haben die mechanische Schädigung der Steinflächen verstärkt.
Resumen

Ocho de las cuarenta y seis muestras de estreptomicetos, que constituyen uno de los biodeteriógenos más potentes, han sido aislados en los frescos deteriorados dentro de las tumbas de Tell Basta y Tanis, en el bajo Egipto. Estos agentes aislados han sido identificados utilizando métodos convencionales y mediante el secuenciamiento
del 16S rDNA y han sido atribuidos a las especies S. albidofuscus, S. ambofaciens, S. canaries, S. chibaensis, S. coelicolor, S. corchorusii, S. nigrifaciens y S. parvullus. Las distintas sales encontradas sobre las antiguas tumbas egipcias, como el cloruro de sodio, cloruro de potasio y el sulfato de magnesio, han aumentado el crecimiento de los
estreptomicetos aislados hasta el 10% de dichas sales. Los estreptomicetos aislados han adoptado distintos mecanismos de defensa como la pigmentación, el equilibrio osmótico y la producción de aminoácidos. Las sales han tenido un efecto sinérgico en el deterioro de los frescos mediante la interacción con el micelio de los estreptomicetos, incrementando el deterioro mecánico de las superficies lapídeas.

Резюме

Восемь из сорока шести образцов стрепромицитов, которые являются самыми мощными биоразрушителями, были изолированы от поврежденных фресок внутри гробниц в Тель Баста и Танисе в Нижнем Египте . Они были идентифицированы при использовании традиционных методов и последовательности 16S рДНК и
были отнесены к видам S. albidofuscus, S. ambofaciens, S. canaries, S. chibaensis, S. coelicolor, S. corchorusii, S. nigrifaciens и S. parvullus . Различные соли, найденные на древнеегипетских могилах, такие как хлорид натрия, хлорид калия и сульфата магния увеличили рост изолированных стрептомицитов до 10% этих солей . Изолированные стрептомициты приняли различные защитные
механизмы такие, как пигментация, осмотическое равновесие и производство аминокислот. Соли оказали синергетический эффект на ухудшение фресок, при взаимодействии мицелия стрептомицитов с солями увеличивался механический износ каменных поверхностей.

摘要

代表最强效生物清洗剂的四十六种链霉菌标本中的八种是从位于埃及南部的布巴斯
提斯和塔尼斯的墓穴内部受损壁画上提取出来的。这些提取物通过16SrDNA排序和常
规方法被确认,归属于物种微白褐链霉菌、生二素链霉菌、黄雀链霉菌黄雀变种、千
叶链霉菌、天蓝色链霉菌、黄麻链霉菌、生黑链霉菌和小小链霉菌。
在古埃及墓中所发现的多种盐,比如氯化钠、氯化钾和硫酸镁都增加了10%的提取
链霉菌的生长。提取的链霉菌已采取了不同的防御机制,比如色素、渗透平衡和氨基
酸的产生。这些盐通过与链霉菌菌丝体的相互作用已经对壁画损坏起到了协助作用,
同时还提高了石材表面的机械化变质。
References
URZÌ C., DE LEO F., BRUNO L., ALBERTANO P., 2010, Microbial Diversity in
Paleolithic Caves: A Study Case on the Phototrophic Biofilms of the Cave of Bats
(Zuheros, Spain), Microbial Ecology 60, pp. 116–129
MCCARTHY A.J., WILLIAMS S.T., 1992, Actinomycetes as agents of biodeterioration
in the environment, A review, Gene, 115, pp. 189-192
SUIHKO M., ALAKOMI H., GORBUSHINA A., FORTUNE I., MARQUARDT J.,
SAARELA M., 2007, Characterization of aerobic bacterial and fungal microbiota on
surfaces of historic Scottish monuments, Systm. Appl. Microbiolo. 30, pp. 494-508
PETUSHKOVA J., LYALIKOVA N., POGLAZOVA M., 1989, Microorganisms
found in the Ferapont Monastery fresco, Microbiology, 6, pp. 1021-1030
MIGUELEZ E., HARDISSON C., MANZANAL M., 2000, Streptomyces: A new
model to study cell death, International Microbiology, 3, pp. 153-158
MAY E., 2003, Microbes on building stone-for good or ill?, Culture, 24, pp. 4-8
GOODFELLOW M., WILLIAMS S.T., 1983, Ecology of Actinomycetes, Annual
Review of Microbiology, 37,pp. 189-216
HEYRMAN J., SWINGS J., 2003, Description of novel bacteria species associated
with biodeteriorated mural paintings using molecular techniques, Molecular
Biology and Cultural Heritage, pp. 29-34
PEPE O., PALOMBA S., SANNINO L., BLAIOTTA G., VENTORINO V., MOSTCHETTI
G., VILLANI F., 2011, Characterization of hetrotrophic bacteria and fungi of
deteriorated wall paintings in the archaeological excavation site of Herculaneum
(Italy), J. Environmental Biology, 32, pp. 242-240
PALLA F., FEDERICO C., RUSSO R., ANELLO L., 2002, Identification of Nocardia
restricta in biodegraded sandstone monuments by PCR and nested-PCR
DNA amplification, FEMS Microbiology Ecology 39, pp. 85-89
PALLA F., TARTAMELLA E., 2007, Chromatic alteration on marble surfaces analyzed
by molecular biology tools, Conservation Science in Cultural Heritage, 7,
pp.111-127
URZÌ C., DE LEO F., DONATO P., LA CONO V., 2003, Multiple approach to study
the structure and diversity of microbial communities colonizing artistic surfaces.
Study case: the Roman catacombs of Callixtus and Domitilla, in Molecular Biology
and Cultural Heritage, Balkema Publishers, pp. 187-198.
SAKR A., 2005, Effect of Delta environment on deterioration of historic buildings
and Methodology of conservation and restoration, A case study: Temples area at
Tell Basta, M Sc. Thesis, Faculty of Archaeology, Cairo University, pp. 254-255
WUST R.A., SCHLUCHTER C., 2000, The origin of soluble salts in rocks of the
Thebes Mountains Egypt: The damage potential to Ancient Egyptian wall art, J.
Archaeology Science, 27, pp. 1161-1172
KAMALLY H. A., 2012, Salt damage on the wall reliefs of Dendera Temple, Egypt,
e-Conservation, 23, pp. 58-70
SAIZ-JIMENEZ C., LAIZ L., 2000, Occurrence of halotolerant / halophilic bacterial communities in deteriorated monuments, International Biodeterioration Biodegradation,
, pp. 319-326
ABDULLA H.M., MAY E., BAHGAT M., DEWEDAR A., 2008, Characterization of
actinomycetes isolated from Ancient stone and their potential for deterioration,
Polish J. Microbiology, 57, pp. 213-220
PIÑAR G., RIPKA K., WEBER J., STERFLINGER K., 2009, The microbiota of
sub-surface monument of medieval chapel of St. Virgil (Vienna, Austria), International
Biodeterioration Biodegradation, 63, pp. 851-859
MAGALHAES S.L., BRAGA M., 2000, Biological colonization features on a granite
monument from Braga (New Portugal), 9th International congress on deterioration
and conservation of stone, Venice June 19-24, V. Fassina (ed.), Vol.1, pp. 521-529
GOUDIE A., VILES H., 1997, Salts weathering hazards, John Wiley and sons,
University of Oxford, pp. 157-158
MILANESI C., BALDI F., BORIN S., CIAMPOLINI F., FALERI C., CRESTI M.,
, Biodeterioration of a fresco by biofilm forming bacteria, International Biodeterioration
& Biodegradation, 57, pp. 168–173
ESCORTEGANHA M.R., SANTIAGO A.G., MAGOSSO H.A., RICHTER F.A.,
COSTA T.G., 2013, Conservation state of mural paintings from a historical house
in Florianopolis-SC, Brazile, A Multidisciplinary approach, Int. J. Conservation
Science, 4 (1),pp. 13-24
WARSCHEID T., KRUMBEIN W., 1996, General aspects and selected cases, in:
Microbially Influenced Corrosion of Materials, Heitz et al.,(eds.), Springer-Verlag,
Berlin, pp. 274–295
ZAGARI M., ANTONELLI F., URZI C., 2000, Biological patina on the limestone
of the Loches Romanic Tower (Touraine, France), 9th International congress on
deterioration and conservation of stone, Venice June 19-24, V. Fassina (ed.), Vol.
, pp. 445-452
URAJI M., ARIMA J., UESUGI Y., IWABUCHI M., HATANAKA T., 2007, Effect
of salt on the activity of Streptomyces prolyl aminopeptidase, Biochimica Biophysica
Acta, 1774, pp. 1462–1469
JROUNDI F., FERNANDEZ-VIVAS A., RODRIGUEZ-NAVARRO C., BEDMAR
J., GONZALEZ-MUNOZ M., 2010, Bioconservation of deteriorated monumental
calcarenite stone and identification bacteria with carbonatohenic activity, Microial
Ecology, 60, pp. 39-54
ABDEL- HALIEM M.F., ALI M.F., GHALY M.F., SAKR A.A., 2013, Efficiency of
antibiotics and gamma irradiation in eliminating Streptomyces strains isolated
from paintings of ancient Egyptian tombs, J. Cultural Heritage, 14, pp. 40-50
URZÌ C., WOLLENZIEN U., CRISEO G., KRUMBEINE W.E., 1995, Biodeversity
of the rock inhabiting microbiota with special reference to black fungi and black
yeast, in Microbial Diversity and Ecosystem Function, Allsopp, D., Colwell, R.R.
and Hawksworth, D.L., (eds), London, pp. 289-303
SAKR A.A., ALI M.F., GHALY M.F., ABDEL HALEIM M.E.F., 2013, Discoloration
of ancient Egyptian mural paintings by Streptomyces strains and methods of its
removal, Intenational J. Conservation Science, 3, pp. 249-258
SHIRAKAWA M A., GAYLARDE C. C., GAYLARDE P. M., JOHN V., GAMBALE
W., 2002, Fungal colonization and succession on newly painted buildings and
the effect of biocide, FEMS Microbiology Ecology, 39, pp. 165-173
KÄMPFER P., 2006, The Prokaryotes. A Hand book on the biology of bacteria,Vol.3, 3rd ed., Dworkin M, Falkow S, Rosenberg E, Schleifer K-H, Stackebrandt
E (Editors),Springer, The family Streptomycetaceae, Part I, Taxonomy, pp. 538-
SAMBROOK J., RUSSEL D., 2001, Molecular cloning: A laboratory manual, 3rd
ed. Cold Springs Harbour Press
CHÉNBEY D., PHILIPPOT L., HARTMANN A., HÉNALUT C., GERMON J.,
, 16S rDNA analysis for characterization of denitrifying bacterial isolated
from three agricultural soils, FEMS Microbial Ecology, 24, pp. 121-128
ENQUIST L.W, BRADLEY S., 1971, Characterization of deoxyribonucleotide
acid from Streptomyces venezuelae, Dev. India Microbiology, 12, pp. 225-236
ALTSCHUL S., MADDEN T., SCHÄFFER A., ZHANG J., ZHANG Z., MILLER W.,
LIPMAN D., 1997, Gapped BLAST and PSI-BLAST: a new generation of protein
database search programs, Nucleic Acids Research, 17, pp. 389-402
STERFLINGER K., KRUMBEIN W., LELLAU T., RULLKÖTTER J., 1999, Microbially
mediated orange patination of rock surface, Ancient Biomolecules, 3, pp.
-65
BASKAR V., MADHANRAJ P., KANIMOZHI K., PANNEERSELVAM A., 2010,
Characterization of carotenoids from selected strains of Streptomyces sp., Annals
Biological Research, 1, pp. 194-200
CALLEJON R..M., TESFAYE W., TORIJA M.J., MAS A., TRONCOSO A.M., MORALES
M., 2008, HPLC determination of amino acids with AQC derivatization
in vinegar along submerged and surface acetifications and its relation to microbiota,
Eur. Food Res. Technol. 227, pp. 93-102
SCHANCHEZ-MORAL S., LUQUE L., CANAVERAS J., LAIZ L., JURADO V.,
HERMOSSIN B., SAIZ-JIMENEZ C., 2004, Bioinduced barium precipition in St.
Callixtus and Domitilla catacombs, Annals of Microbiology, 54, pp. 1-12
GIACOBINI C., DE CICCO M., TIGLIE I., ACCARDO G., 1988, Actinomycetes
and biodeterioration in the field of fine art, In: Biodeterioration, D.R. Houghton,
R.N. Smith, H.O.W. Eggins (eds.), Elsevier Applied Science, New York, NY, Vol.
, pp. 418-423
ARNOLD A., 1984, Determination of mineral salts from monuments, Studies in
Conservation, 29, pp. 129-138
RODRIGUEZ-NAVARRO C., SEBASTIAN E., DOEHENE E., GINELL S., 1998,
The role of sepiolite-palygorskite in the decay of Ancient Egyptian limestone
sculptures, Clays and Clay Minerals, 46, pp. 414-422
URZI C., REANLINI M., 1998, Color changes of Noto᾿s calcareous sandstone
as related to its colonization by microorganisms, International Biodeterioration &
Biodegradation, 42, pp. 45-54
WALSH D., PAPKE R., DOOLITTLE W., 2005, Archaeal diversity along a soil
salinity gradient prone to disturbance, Environmental Microbiology, 7, pp. 1655–
THUMAR J., SINGH S.P., 2007, Scretion on an alkaline from a salt-tolerant and
alkaliphilic Streptomyces clavuligerus strain MIT-1, Brazilian J. Microbiology, 38,
pp. 766-772
SAIZ-JIMENEZ C., SAMSON R.A., 1981, Microorganisms and environmental
pollution as deteriorating agents of the frescoes of the monastery of Santa Maria
de la Rabida, Huelva, Spain, 6th Triennial Meeting ICOM, paper 81/15/5, pp.14
EL SHAYEIB M.F., 1995, Effects of the environmental factors on the monuments areas in the East of Delta, Ph D Thesis, Zagzig University, pp. 301-303
HERRERO J.I., 1967, Altération des calcaires et des gres utilizés dans la
construction, Paris, pp. 41-42
GEWEELY N.S., 2006, Non toxic fumigation and alternative control techniques
against fungal colonization for preserving archaeological oil paintings, International
J. Botany, 2, pp. 353-362
PAPIDA S., MURPHY W., MAY E., 2000, Enhancement of physical weathering
of building stones by microbial populations, International Biodeterioration & Biodegradation,
, pp. 305-317
KILLHAM K., FIRESTONE M., 1984, Salt stress control of intracellular solutes in
Streptomyces indigenous to saline soil, Applied Environmental Microbiology, 47,
pp. 301-306
ROMANO A., NICKERSON W., 1958, Utilization of amino acids as carbon sources
by Streptomyces fradiae 1, J. Bacteriol, 75, pp. 161-166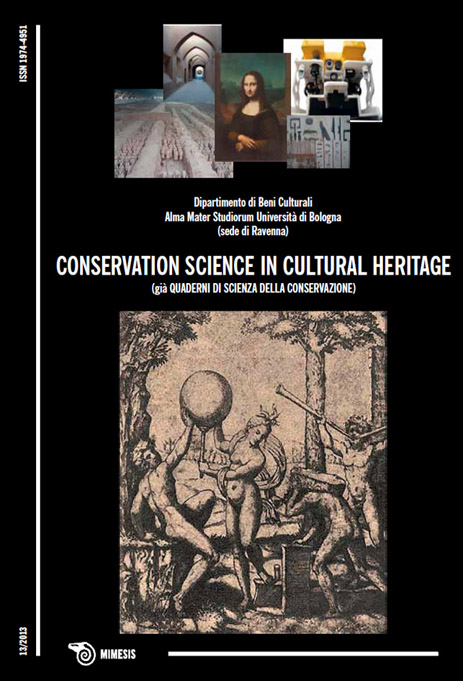 Downloads
How to Cite
Sakr, A. A., Ghaly, M. F., & Ali, M. F. (2013). The relationship between salts and growth of Streptomyces isolated from mural paintings in some ancient Egyptian tombs. Conservation Science in Cultural Heritage, 13(1), 313–330. https://doi.org/10.6092/issn.1973-9494/4190
License
Copyright (c) 2013 Akmal Ali Sakr, Mohammed Farouk Ghaly, Mona Fouad Ali
Copyrights and publishing rights of all the texts on this journal belong to the respective authors without restrictions. Authors grant the journal right of first publication.
This journal is licensed under a
Creative Commons Attribution 3.0 Unported License
. (
full legal code
)
See also our
Open Access Policy
.