In search of a holistic, sustainable and replicable model for complete energy refurbishment in historic buildings
Keywords:
heritage conservation, sustainability, energy efficiency, renewable energy, valuation
Abstract
The reduction of greenhouse gas emissions in buildings offers one of the most promising opportunities for developed and developing countries to cooperate in achieving the realization of significant energy efficiency improvements. However, achieving sustainability is not an easy task unless there is synergy with/between energy efficiency improvement and renewable energy sources (RES) - these are not at present in widespread dissemination and use. This paper recognizes the synergetic relationship between conservation and sustainability. At present, the role of heritage conservation in achieving sustainability has not yet been fully recognized, nor have heritage needs been well integrated into sustainability initiatives. Historic buildings are inherently sustainable. Preservation maximizes the use of existing materials and infrastructures, reduces waste, and preserves the historical character of older towns and cities. Sustainability begins with preservation. Taking into account the original climatic adaptations of historic buildings, today's sustainable technology can supplement inherent sustainable features without compromising their unique historical character. Furthermore, a number of paper reviews and case studies with related methodologies outline the need to implement the latest current knowledge and technologies (BPS - Building Performance Simulation and CFD - Computational Fluid Dynamics) for use in the refurbishment design process, as well as highlighting the crucial importance of sustainability, relevant benchmarking and rating system development.
Riassunto
La riduzione delle emissioni del gas serra negli edifici offre la più promettente opportunità per i Paesi sviluppati e in via di sviluppo di cooperare al raggiungimento di azioni comuni per realizzare miglioramenti significativi di efficienza energetica. Tuttavia, la strada per la sostenibilità non sarebbe stata aperta se il miglioramento di efficienza energetica delle fonti energetiche rinnovabili (FER) non fosse ampiamente in atto. Questo articolo fa presente il rapporto sinergico tra conservazione e sostenibilità. Tuttavia, il ruolo della conservazione del patrimonio nel raggiungimento della sostenibilità non è stato ancora riconosciuto, né vi sono iniziative culturali che si riferiscono al patrimonio culturale. Gli edifici storici sono intrinsicamente sostenibili. La conservazione massimizza l'utilizzazione dei materiali e delle infrastrutture esistenti, riduce gli sprechi, e conserva il carattere storico delle vecchie città. La sostenibilità inizia con la conservazione. Prendendo in considerazione gli adattamenti climatici degli edifici storici originali, la tecnologia sostenibile di oggi può integrare le intrinsiche caratteristiche sostenibili senza compromettere il carattere storico.
Résumé
La réduction des émissions du gaz à effet de serre dans les édifices offre la plus prometteuse opportunité pour les pays développés et en voie de développement de coopérer à la réalisation d'actions communes pour réaliser des améliorations significatives de l'efficacité énergétique. Toutefois, le chemin pour la soutenabilité n'aurait pas été ouvert si l'amélioration de l'efficacité énergétique des sources d'énergie renouvelables (SER) n'avait pas déjà été amplement en exécution. Cet article souligne le rapport synergique entre conservation et soutenabilité. Toutefois, le rôle de la conservation du patrimoine dans la réalisation de la soutenabilité n'a pas encore été reconnu et il n'y a pas d'initiatives culturelles qui se réfèrent au patrimoine culturel. Les édifices historiques sont intrinsèquement soutenables. La conservation maximise l'utilisation des matériaux et des infrastructures existantes, réduit les gaspillages et conserve le caractère historique des vieilles villes. La soutenabilité commence par la conservation. En prenant en considération les adaptations climatiques des édifices historiques originaux, la technologie soutenable d'aujourd'hui peut intégrer les caractéristiques soutenables intrinsèques sans en compromettre le caractère historique. En outre, l'article passe en revue certains cas d'étude et les méthodologies relatives (BPS - Building Performance Simulation et CFD - Computational Fluid Dynamics) et déligne la nécessité de connaissances et de technologies plus actuelles employées dans le procès de projet de la restructuration, ainsi que l'importance cruciale du benchmarking utile pour la soutenabilité et le développement du système d'évaluation.
Zusammenfassung
Die Reduzierung der Emissionen von Treibhausgasen in Gebäuden bietet Industrie- wie Entwicklungsländern die viel versprechende Möglichkeit, gemeinsam an der Umsetzung von Maßnahmen zum Erzielen bedeutender Optimierungen im Bereich der Energieeffizienz zu arbeiten. Dennoch wäre der Weg zur Nachhaltigkeit nicht offen gewesen, wenn die Verbesserung der Energieeffizienz von erneuerbaren Energiequellen (FER) nicht bereits in vollem Gange wäre. Dieser Artikel verdeutlicht das Zusammenspiel von Erhaltung und Nachhaltigkeit. Trotzdem wurde die Rolle der Erhaltung des Kulturguts beim Erreichen von Nachhaltigkeit bisher weder anerkannt, noch gibt es diesbezügliche kulturellen Initiativen. Historische Gebäude sind an und für sich nachhaltig. Ihre Erhaltung maximiert die Verwendung von bestehenden Materialien und Infrastrukturen, reduziert Verschwendung und bewahrt den historischen Charakter alter Städte. Nachhaltigkeit beginnt also mit der Erhaltung. Berücksichtigt man witterungsbedingte Anpassungen von historischen Originalgebäuden, so kann die nachhaltige Technologie von heute wirklich nachhaltige Eigenschaften einfließen lassen, ohne deshalb den historischen Charakter zu beeinträchtigen. Darüber hinaus geht der Artikel auf einige Beispiele und diesbezügliche Methologien ein (BPS - Building Performance Simulation und CFD - Computational Fluid Dynamics) und umreißt die Erfordernis aktuellerer, im Rahmen der Sanierungsplanung angewendeter Wissensstände und Technologien sowie die immense Bedeutung des zur Nachhaltigkeit und Entwicklung des Beurteilungssystems nützlichen Benchmarkings.
Resumen
La reducción de las emisiones del gas de efecto invernadero en los edificios representa la oportunidad más prometedora para los Países desarrollados y en desarrollo de cooperar para poner en marcha acciones comunes encaminadas a realizar mejoras importantes desde el punto de vista de la eficiencia energética. Sin embargo, la vía hacia la sostenibilidad no estaría abierta si la mejora de la eficiencia energética de las fuentes energéticas renovables (FER) no fuera en marcha de manera extensa. Este artículo destaca la relación sinérgica entre conservación y sostenibilidad. Sin embargo, el papel de la conservación del patrimonio para alcanzar la sostenibilidad no ha sido todavía reconocido, ni hay iniciativas culturales relacionadas con el patrimonio cultural. Los edificios históricos son sostenibles de manera intrínseca. La conservación permite un uso optimizado de los materiales y de las infraestructuras existentes, reduce los desperdicios y mantiene el carácter histórico de las antiguas ciudades. La sostenibilidad empieza con la conservación. Tomando en cuenta los ajustes climáticos de los edificios históricos originales, la tecnología sostenible de hoy puede incorporar las intrínsecas características sostenibles sin afectar el carácter histórico. Además, el artículo reseña algunos casos de estudio y las relativas metodologías (BPS - Building Performance Simulation y CFD - Computational Fluid Dynamics) subrayando tanto la necesidad de tecnologías y conocimientos más modernos a emplear en el proceso de diseño de la remodelación, como la importancia crucial de la evaluación comparativa (benchmarking) para la sostenibilidad y el desarrollo del sistema de evaluación.
Резюме
Сокращение выбросов зданиями парниковых газов является для развитых и развивающихся стран многообещающей возможностью кооперации к достижению совместных действий, способствующих осуществлению значительного повышения энергетической эффективности. Несмотря на это дорога к устойчивости не была бы открыта, если бы повышение энергоэффективности возобновляемых источников энергии (ВИЭ) не было бы уже в действии. Данная статья показывает синергитическую связь между сбережением и устойчивостью. Между тем роль сбережения наследия в достижении устойчивости еще не признана и нет культурных мероприятий, затрагивающих сохранение культурного наследия. Сбережение использует максимально уже существующие материалы и инфраструктуры, снижая потери и сохраняет исторический характер древних городов. Устойчивость начинается с сохранения. Принимая во внимание климатическую адаптацию оригинальных исторических зданий сегодняшние технологии могут интегрировать внутренние характеристики устойчивости, не компрометируя исторического характера. Статья также рассматривает некоторые исследования и их мотодологии (BPS – Building Performance Simulation и CFD – Computational Fluid Dynamics) и подчеркивает необходимость более актуальных знаний и технологий, используемых в процессе проектирования реструктуризации, также как важность бенчмаркинга, полезного для устойчивости и развития оценночной системы.
Ամփոփում
Ջերմոցային գազերի արտանետումների կրճատումը շենքերում առաջարկում է ամենախոստումնալից հնարավորություն զարգացած եւ զարգացող երկրներին համագործակցել եւ հասնել միասնական գործողությունների զգալիորեն բարելավելով էներգաարդյունավետությունը: Այնուամենայնիվ, ճանապարհը կայուն չէր լինի, եթե էներգաարդյունավետության վերականգնվող էներգիայի աղբյուրների հարցը արդեն ուժի մեջ չլիներ: Այս հոդվածը ներկայացնում է այդ հարաբերությունների պահպանման եւ կայունության. միասնականությունը: Այնուամենայնիվ, ժառանգության պահպանման դերը կայունությունը հասնելու համար դեռ չի ճանաչվել, եւ բացակայում են մշակութային միջոցառումներ: Պատմական շենքերը վերուստ ժառանգաբար կայուն. Են: Պահպանման մեջ առավելագույնի հասնել օգտագործելով գոյություն ունեցող սարքավորումները եւ ենթակառուցվածքները նվազեցնում է թափոնները եւ պահպանում է հին քաղաքի պատմական բնույթը. Կայունությյունը սկսվում է պահպանումից: Հաշվի առնելով բուն պատմական շենքերի կլիմայական ադապտացիաները, կայուն տեխնոլոգիաները այսօր կարող են ինտեգրել ներսի կայուն հատկությունները առանց ձեռք տալու պատմական բնույթը: Բացի այդ, հոդվածը վերանայում է որոշ դեպքերի ուսումնասիրություններ եւ մեթոդաբանություններ (BPS - Շենքերի մոդելավորում եւ կատարումը) CFD- հաշվողական FLUID DYNAMICS) եւ նախանշում է անհրաժեշտությունը գիտելիքների եւ նորագույն տեխնոլոգիաների ավելի ընթացիկ օգտագործումը նախագծման գործընթացի վերակազմակերպման, բացի դրանից վճռորոշ նշանակությունը օգտակար է կայունության եւ զարգացման գնահատման համակարգի համար:
References
Submission of the United Nations Environment Programme (UNEP) Sustainable Building Initiative (SBCI) to the Ad Hoc Working Group on Long-Term Cooperative Action under the Convention (AWG-LCA), 24 April 2009
IPCC Fourth Assessment Report: Climate Change 2007 (AR4)
HOLL M., Cost optimal policy for energy efficiency and nearly zero energy buildings in recast EPBD Directive, the European Commission, DG Energy, REHVA, Annual Meeting, Tallin, 2011
TODOROVIC M. S., Sustainability Research and Education via Interdisciplinariness and Harmony, International Conference on Advances in Infrastructure for Electronic Business, Science, and Education on Internet, Proceedings, F 3-6, paper No. 161, pp. 1-10, Scuola Superiore G. Reiss Romoli, L`Aquila, 2000
Getty Conservation Institute, Sustainability and Heritage in a World of Change, Video/Panel discussion, January 11, 2011,http://www.cultureindevelopment.nl/News/
Discussing_Culture_and_Development/ 922/ Sustainability_ and_Heritage_in_a_World_of_ ChangeNew energy for old buildings - Promoting the integration of RES & RUE measures in historic buildings (NEW4OLD), 2007 -2008
Proceedings of the Workshop on Historic Preservation and Energy Efficiency in Federal Buildings, December 6-7, 2006, Decatur House Museum Washington, DC Sponsored by FEMP - Federal Energy Management Program, Office of Energy Efficiency and Renewable Energy, U.S. Department of Energy
Project Number: NNE5-1999-00020: Title of Project: MUSEUMS - Energy Efficiency and Sustainability in Retrofitted and New Museum Buildings – Common Report, Period covered: from 01/01/2000 to 31/12/2004, 2005
TODOROVIC M.S., 2002, Contemporary Art Museum in Belgrade, Dynamic Daylighting Analysis, Preliminary retrofit study, Laboratory for Thermodynamics and Thermotechnics, University of Belgrade
SALAMA O.M., 2008, Flow, Thermal Patterns and Moisture Distributions in Ventilated Archaeological Tombs, Valley of Kings, Luxor, Master of Science Thesis, Faculty of Engineering at Cairo University, Egypt
ASHRAE Handbook - HVAC Applications (SI), Chapter 21: museums, galleries, archives, and libraries, 2007
PETROSYAN V., 2011, Chemical Safety Problems, Conservation Science in Cultural Heritage, 11, pp. 51-67
ALTERIO S., BARBARO S., CAMPIONE F.C., CAMPODONICO A., NICASTRI E., 2010, Microclimate Management for the Preservation of Cultural Heritage, Conservation Science in Cultural Heritage, 10, pp. 71-100
LORUSSO S., CARBONARA G., GENTILE M.T., 2002, Architectural restoration: different conceptions during centuries, Quaderni di Scienza della Conservazione, 2, pp. 56-83
FATTA G., CAMPISI T., LI CASTRI M., VINCI C., 2009, The façades along the Cassaro in Palermo: historical-building characterization, degradation, restoration norms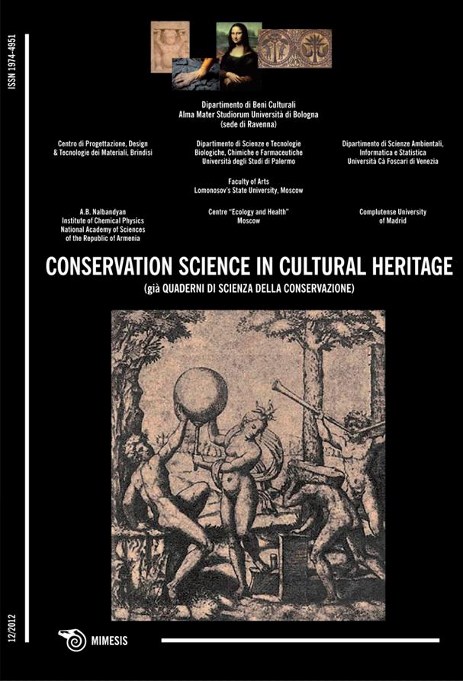 Downloads
How to Cite
Todorović, M. S. (2012). In search of a holistic, sustainable and replicable model for complete energy refurbishment in historic buildings. Conservation Science in Cultural Heritage, 12(1), 27–53. https://doi.org/10.6092/issn.1973-9494/3381
License
Copyright (c) 2012 Marija S. Todorović
Copyrights and publishing rights of all the texts on this journal belong to the respective authors without restrictions. Authors grant the journal right of first publication.
This journal is licensed under a
Creative Commons Attribution 3.0 Unported License
. (
full legal code
)
See also our
Open Access Policy
.