Bibliographical analysis of printing variants found in italian-german lexicons registered in italian incunable production
Keywords:
printing variants, incunables, Italian-German lexicons
Abstract
In the era of hand-press printing, variations among the copies of a single edition was the norm rather than the exception. Indeed, no single copy would ever be identical to another, but rather each one would be unique. These differences were due not only to the marks and features that each item acquired after leaving the printing shop, according to the hands through which it passed, but also to the features that accumulated during the printing process itself. These characteristics could be of two kinds: conscious variants, either when the printer made stop-press corrections to typesetting errors or other mistakes that had been missed during proof reading or to add later corrections by the editor or author; unconscious variants when they were the result of unnoticed mistakes made by the printer himself.
In the preparation of her dissertation for a degree in Bibliography, the author made a census of the surviving examples of Italian-German lexicons recorded in Italian incunabula production and described them. The conscious and unconscious printing errors collated are analyzed in this paper.
Riassunto
All'epoca della stampa manuale la presenza di varianti fra le copie appartenenti ad una stessa edizione costituisce la norma e non l'eccezione, a tal punto che ogni esemplare stampato non risulta mai identico ad un altro costituendo quindi un unicum. A renderlo tale non solo solo gli elementi legati alle personali vicende dell'esemplare in seguito all'uscita dell'officina tipografica (possesso, uso), ma anche la somma delle varianti di stampa consce (se determinate dall'interruzione volontaria del processo di stampa da parte del tipografo per correggere errori compiuti in fase di composizione oppure errori sfuggiti alla revisione delle bozze o su richiesta del correttore o dell'autore) e inconsce (se prodotte accidentalmente all'insaputa del tipografo) che intervengono nel processo di stampa.
In occasione della compilazione della tesi di laurea in Bibliologia, l'autrice ha censito e descritto gli esemplari superstiti dei lessici italiano-tedeschi registrati nella produzione incunabolistica italiana; dalla loro collazione sono emerse le varianti di stampa consce e inconsce analizzate nell'articolo.
Résumé
À l'époque de l'imprimerie manuelle, la présence de variantes entre les copies appartenant à une même édition constitue la norme et non pas l'exception, au point que chaque exemplaire imprimé ne résulte quasiment jamais identique à un autre constituant ainsi un unicum. Ce qui le rend tel ce ne sont pas seulement les éléments liés aux vicissitudes personnelles de l'exemplaire à la suite de sa sortie de l'atelier typographique (possession, emploi), mais aussi la somme des variantes d'impression « conscientes » (si elles sont déterminées par l'interruption volontaire du processus d'imprimerie de la part du typographe pour corriger les erreurs faites en phase de composition ou bien les erreurs échappées à la révision des épreuves ou sur demande du correcteur ou de l'auteur) et « inconscientes » (si elles sont produites accidentellement à l'insu du typographe) qui interviennent dans le processus d'imprimerie.
À l'occasion de la compilation du mémoire de maîtrise en Bibliologie, l'auteur a recensé et décrit les exemplaires subsistants des lexiques italien-allemand enregistrés dans la production italienne des incunables ; de leur collation sont émergées les variantes d'impression « conscientes » et « inconscientes » analysées dans l'article.
Zusammenfassung
In der Epoche des manuellen Druckens stellt das Vorliegen von Abweichungen zwischen den Exemplaren einer Ausgabe die Regel und nicht die Ausnahme dar; das geht so weit, dass ein Druckexemplar nie einem anderen gleich ist und daher ein Unikat darstellt. Dazu wird es nicht nur durch Elemente, die mit den individuellen Geschicken des Exemplars nach Verlassen der Druckerei verbunden sind (Besitz, Gebrauch), sondern auch durch die Summe der Druckvarianten, die bewusst (wenn sie auf eine absichtliche Unterbrechung des Druckvorgangs durch den Drucker zurückzuführen sind, um Setzfehler oder beim Korrekturlesen der Fahnen übersehene Fehler zu korrigieren, oder auf Veranlassung des Korrektors oder des Autors) und unbewusst (wenn sie, vom Drucker unbemerkt, unbeabsichigt auftreten) beim Druckvorgang entstehen.
Anlässlich der Verfassung ihrer Doktorarbeit in Buchwissenschaft hat die Autorin die erhaltenen Exemplare der Italienisch-Deutsch-Lexika erfasst und beschrieben, die in der italienischen Inkunabeln-Produktion registriert sind. Aus ihrer Nebeneinanderstellung wurden die bewussten und unbewussten Druckvarianten ersichtlich, die im Artikel analysiert sind.
Resumen
En la época de la impresión manual la presencia de variantes entre las copias pertenecientes a una misma edición constituye la norma y no la excepción, hasta el punto de que ningún ejemplar impreso resulta idéntico a otro, de modo que cada uno de ellos constituye un unicum. A ello contribuyen no sólo los elementos ligados a las vicisitudes personales del ejemplar (posesión, uso), sino también la suma de las variantes de impresión conscientes (si fueron determinadas por la interrupción voluntaria del proceso de impresión por parte del tipógrafo para corregir errores cometidos durante la composición, errores que pasaron desapercibidos en la corrección de pruebas, o peticiones expresas del corrector o del autor) e inconscientes (producidas accidentalmente sin que el tipógrafo supiese de ellas) que intervienen en el proceso de impresión.
Con ocasión de la redacción de la tesis doctoral en Bibliología, la autora ha preparado un censo y descripción de los ejemplares que nos han llegado de los léxicos italiano-alemán registrados en la producción italiana de incunables; de su cotejo se han puesto en evidencia las variantes de impresión conscientes inconscientes analizadas en el artículo.
Резюме
В эпоху мануальной печати наличие различных вариантов копий одного и того же издания является нормой, а не исключением и, таким образом, каждый отпечатанный экземпляр отличен от всех остальных, являясь уникальным. Таковым его делают не только «личные» события после выхода из типографии (владение, использование), но также множество осознанных вариантов печати (если они обусловлены остановкой печати со стороны типографа для исправления ошибок, допущенных во время набора или ошибок, которые не заметили во время проверки черновика, или по просьбе редактора или самого автора) и неосознанных (если таковые случаются без ведома типографа) во время процесса печати.
По случаю защиты университетского диплома по библиологии автор перечислила и описала сохранившиеся экземляры итало-немецких словарей, зарегистрированных в коллекции итальянской инкунабулы; из их сопоставления были обнаружены осознанные и неосознанные варианты печати, которые рассматриваются в статье.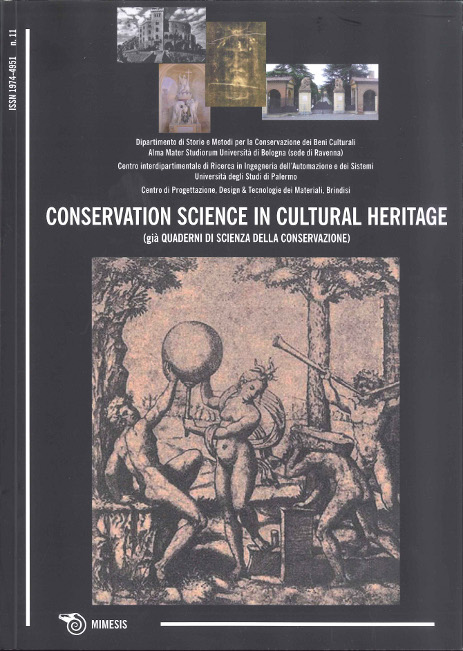 Downloads
How to Cite
Fabbri, F. (2011). Bibliographical analysis of printing variants found in italian-german lexicons registered in italian incunable production. Conservation Science in Cultural Heritage, 11(1), 219–247. https://doi.org/10.6092/issn.1973-9494/2699
License
Copyright (c) 2011 Federica Fabbri
Copyrights and publishing rights of all the texts on this journal belong to the respective authors without restrictions. Authors grant the journal right of first publication.
This journal is licensed under a
Creative Commons Attribution 3.0 Unported License
. (
full legal code
)
See also our
Open Access Policy
.