The traditional, the innovative, the ephemeral: conception, realization, intervention in contemporary art
Abstract
The traditional, the innovative, the ephemeral: conception, realization, intervention in contemporary art. One must consider the traditional, the innovative and also the ephemeral related to the artistic intentions and thus to the interventions on works of contemporary art, for which the concepts of originality and authenticity do not always correspond. The Brandian vision and point of view do not completely resolve the problematics relative to restoration and conservation: artists realize their artifacts with the intention of undermining tradition or, however, of interpreting it in an unusual way. There are, therefore, cases when a diagnostic-analytical and conservative intervention is possible correspondently to the different and numerous typologies of the materials (poor, plastic, industrial) and techniques (collage, enamel on rubber foam, paint on textile or plastic, neon). A vocation for the ephemeral can be transformed into the adoption of deteriorated materials or into the realization of works of conceptual art and net-art. Some case studies are treated in the comparison of art works of different age. The solutions to the aforementioned problematics are offered and the importance of the involvement of the historical-technical experts, authors and manufacturers of the materials used in the artifacts is highlighted. Finally the procedure of intervention cannot be the same for all works of contemporary art. One must employ a methodology based on the critical study, not only of the materials used but also of the philosophy and creative conceptual intentions of the artist.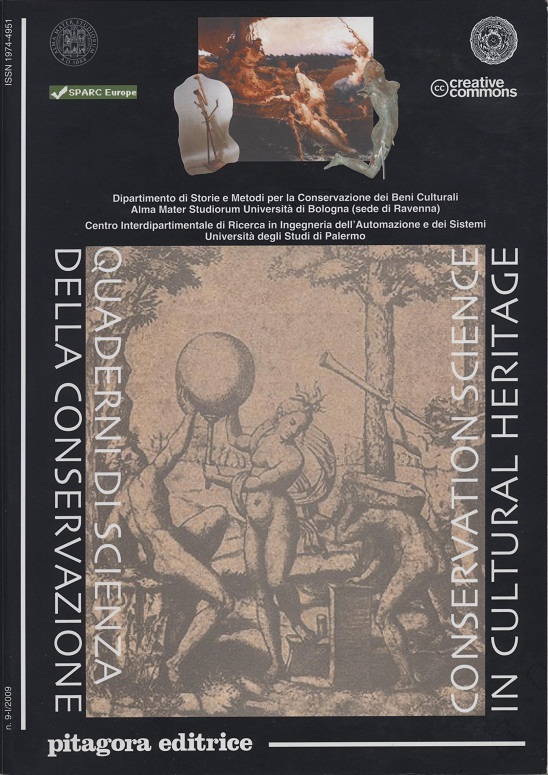 Downloads
How to Cite
Lorusso, S., Natali, A., & Volpe, F. (2009). The traditional, the innovative, the ephemeral: conception, realization, intervention in contemporary art. Conservation Science in Cultural Heritage, 9(1), 170–214. https://doi.org/10.6092/issn.1973-9494/1752
License
Copyright (c) 2009 Salvatore Lorusso, Andrea Natali, Filomena Volpe
Copyrights and publishing rights of all the texts on this journal belong to the respective authors without restrictions. Authors grant the journal right of first publication.
This journal is licensed under a
Creative Commons Attribution 3.0 Unported License
. (
full legal code
)
See also our
Open Access Policy
.