Deterioration and conservation of an archaeological Byzantine lead sarcophagus from Jerash, Jordan
Keywords:
Jordan, Gerasa, Jerash museum, lead sarcophagus, conservation
Abstract
The research looks at a Byzantine sarcophagus made of lead, found in Jerash (Gerasa), Jordan, kept in the warehouse of the Jerash Museum under No.1824. The sarcophagus was exposed to unsuitable storage conditions that caused severe damage. Examination by optical stereomicroscope and scanning electron microscope revealed that the sarcophagus suffered from various deterioration phenomena, for example, the presence of corrosion layers, folds and various cracks. The analysis of the sarcophagus by the EDX unit attached to a scanning electron microscope and x-ray fluorescence, showed that it contained 98% lead, in addition to a very small percentage of other elements such as iron, aluminum, sodium, silicon, and carbon. Analysis by X-ray diffraction revealed that the sarcophagus also contained minerals, which included Graphite (C), Lead (Pb), Litharge (PbO), Cerussite PbCO3, Hydrocerussite 2PbCO3.Pb (OH)2. The treatment, restoration, and maintenance stages of the lead sarcophagus were then carried out and were followed by mechanical and chemical cleaning and straightening of the deformed areas. The missing parts were also integrated, and the four sides of the sarcophagus were assembled using plexiglass as a support material. Treatment with a benzotriazole solution in ethanol with a concentration of 5%, and with Paraloid B72, also with a concentration of 5% were carried out (coating). The sarcophagus cover was also completely repaired. After completion of the treatment, restoration, and conservation processes of the sarcophagus, a transparent glass cabinet of 1 cm thick was designed for its display inside the Jerash Museum in an environment with a relative humidity of 25-30% and temperature of 20-22 °C.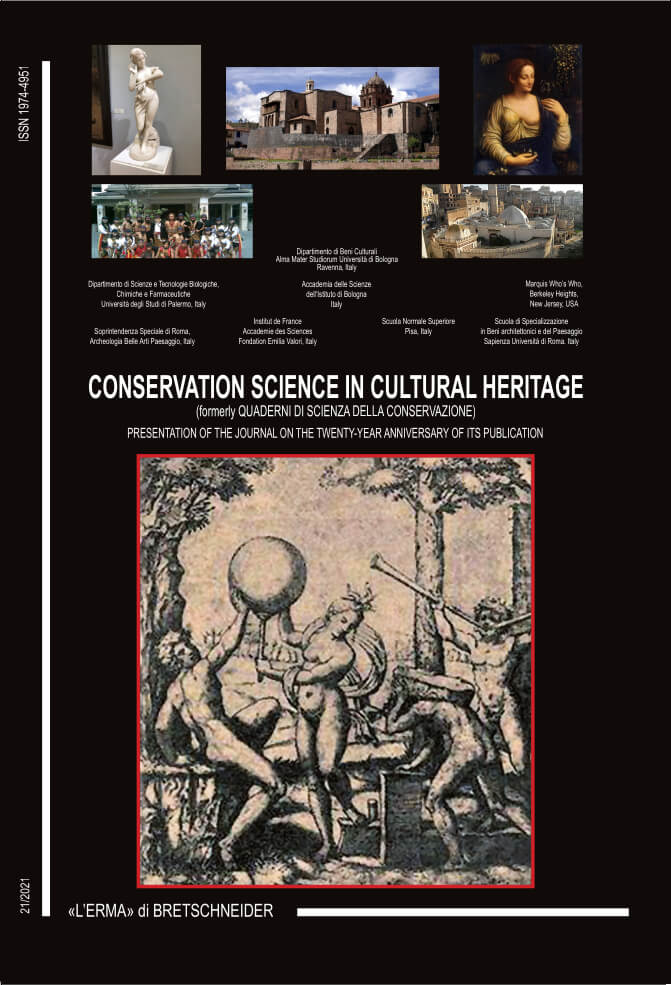 Downloads
How to Cite
Al Sekhaneh, W., Mahmoud, G. A., Elserogy, A., & al-Boorini, B. F. (2021). Deterioration and conservation of an archaeological Byzantine lead sarcophagus from Jerash, Jordan. Conservation Science in Cultural Heritage, 21(1), 221–239. https://doi.org/10.48255/1973-9494.JCSCH.21.2021.10
License
Copyright (c) 2021 Wassef Al Sekhaneh, Gehan Adel Mahmoud, Abdelrahman Elserogy, Bilal Fawwaz al-Boorini
This work is licensed under a Creative Commons Attribution 3.0 Unported License.