Evaluating the antimicrobial activity of essential oils in the conservation of mural paintings
Keywords:
fungi, bacteria, mural painting, essential oils, analytical technologies
Abstract
One bacterial species and five fungi were isolated from the mural paintings of the Egyptian tomb of Khety (Tomb No. 17, 11th Dyn.). The antimicrobial activity of lemon and thyme essential oils (EOs) diluted in ethanol 70% was evaluated against the bacterial isolate (related to the genus Alcaligenes and the species faecalis identified using 16 rRNA gene sequencing) and the most predominant fungi in the tomb, Aspergillus niger, Penicillium cyclopium and Fusarium Solani on agar plates using the disc diffusion method. Fragments were taken from the mural painting layers for analysis and examination to prepare replicas (5×5cm) similar to the archaeological mural painting and were artificially aged. Antimicrobial activity of the two studied EOs was evaluated against the bacterial isolate and the three studied fungi on replicas. Interestingly, our results revealed that the thyme oil at a concentration of 15% is generally more efficient than lemon EO against the three studied fungi and, in contrast, the lemon oil was more efficient against the bacterium than fungi. Moreover, colorimetric measurements proved that no notable changes occurred to the replica after treatment with the two tested EOs in 10% and 15%. From the GC-MS analysis, the volatile profile of the lemon oil revealed that it is mainly composed of monoterpenes, with citral, 6-exohydroxy camphene, and Fenchone as the major compounds. Our results showed that thymol (44.38%) is the major compound for the thyme oil.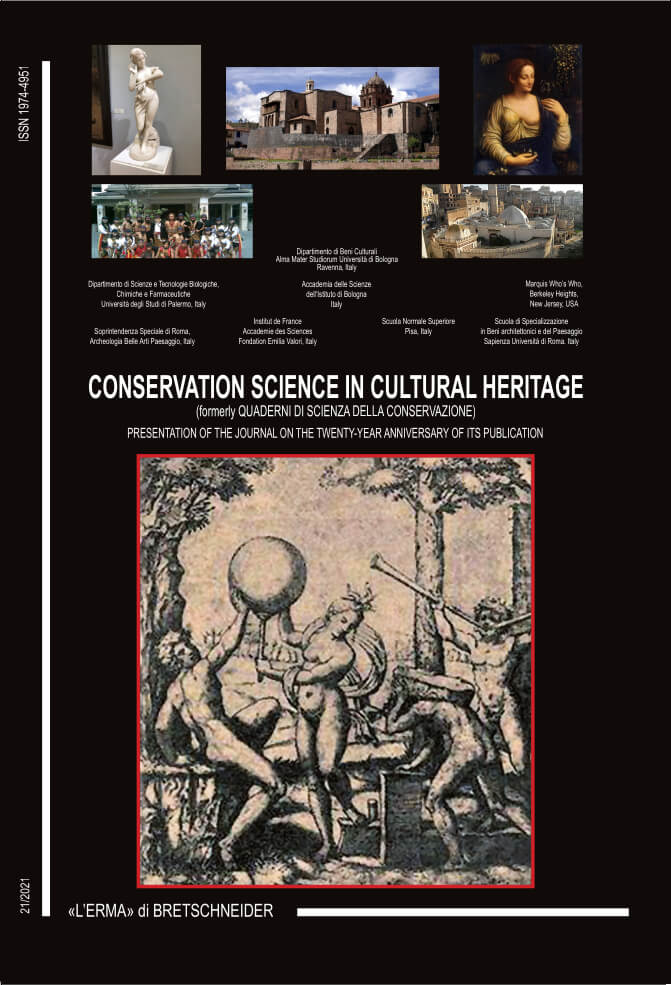 Downloads
How to Cite
Albasil, M. D., Mahgoub, G., ElHagrassy, A., & Reyad, A. M. (2021). Evaluating the antimicrobial activity of essential oils in the conservation of mural paintings. Conservation Science in Cultural Heritage, 21(1), 125–148. https://doi.org/10.48255/1973-9494.JCSCH.21.2021.05
License
Copyright (c) 2021 Mayssa D. Albasil, Gamal Mahgoub, Abeer ElHagrassy, Amany M. Reyad
This work is licensed under a Creative Commons Attribution 3.0 Unported License.