A restoration and conservation project of the "Saint Dominic" Monastery in Soriano Calabro, Italy
Abstract
The article is extracted from the Master Thesis about Restoration of the Monuments at "La Sapienza", University of the Studies of Rome. The Monastery was one of the most important of the Dominican Order in Europe. The building dates back to year 1510, it broke down almost completely in the earthquake of year 1659. It was rebuilt following the architect B. Presti's project. At the present time the "Saint Domenic" Monastery largely seems a ruin, mainly as a consequence of the cat- N. Davolos - A restoration and conservation project of the ÒSaint DominicÓ Monastery... 185 astrophic earthquake in 1783. However, with the new look that has acquired, it still preserves an extraordinary charm that continues to astonish. The project followed the trend of the critical and conservative restoration with the safeguard of the artistic and figurative data of the "Saint Domenic" Monastery which has been analysed through an accurate historical-critical work. The idea is to preserve and transmit to the future generations the "Saint Domenic" monument in his authenticity, in its formal and material consistence, with the marks of the passing of time. The abstracts reports only the most important aspects which are representative of the project. Besides the historical analysis, laboratory examination have been executed on the material used in the construction of the ancient facade through the observation of thin sections by optic microscope and with the realization of spectrum of X-ray diffraction, in order to know the nature and composition, the state of preservation and the kinds of deterioration to support an appropriate intervention of restoration.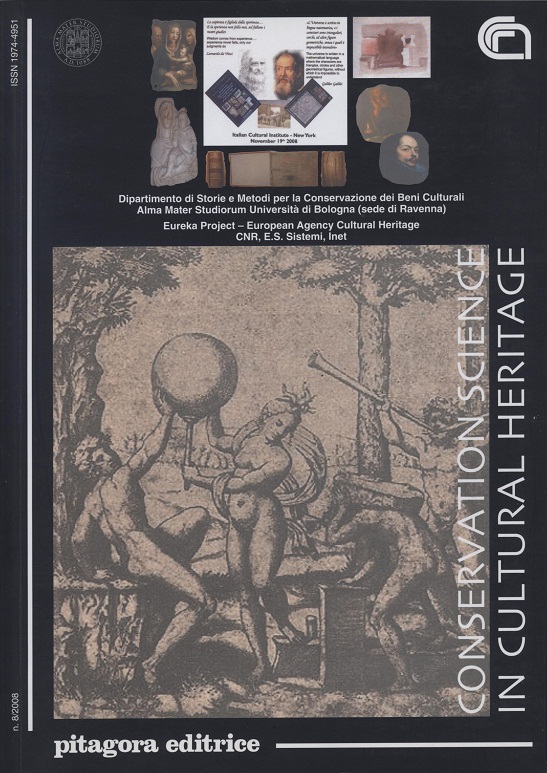 Downloads
How to Cite
Davolos, N. (2008). A restoration and conservation project of the "Saint Dominic" Monastery in Soriano Calabro, Italy. Conservation Science in Cultural Heritage, 8(1), 167–186. https://doi.org/10.6092/issn.1973-9494/1405
License
Copyright (c) 2008 Nazzareno Davolos
Copyrights and publishing rights of all the texts on this journal belong to the respective authors without restrictions. Authors grant the journal right of first publication.
This journal is licensed under a
Creative Commons Attribution 3.0 Unported License
. (
full legal code
)
See also our
Open Access Policy
.